Factory today
LLC "Tomsk cable factory" is modern, dynamically developing company of cable industry, which has high-powered base of technological equipment for wide range production of the most popular cable and wire products. Within few working years LLC "Tomskcable" gained credibility of reliable and trustworthy partner for our customers.
We rely on high technology, as this is contemporary industrial and technological policy of the company. We are continuously increasing our production volumes due to the professional work of the whole team. We respect our partners, customers, rivals — you are the stimulus of growth and improvement for us.
"We produce and supply cable products for consumers in Russia and abroad. We take into account the requirements, opinion and wish of our customers and provide them with high-quality products. This is our mission."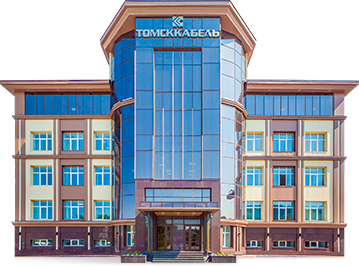 300 000 000 rubles
is production resources
464
employees
work at the company
55 000 km
of product were produced
and sold in 2014
LLC "Tomskcable" is among the top ten largest cable factories for copper processing volumes: monthly we recycle about 600 tons. As for aluminum processing volumes — 400 tons per month — LLC "Tomskcable" also ranks in the top ten major manufacturers. LLC "Tomskcable" is leading in control cable production, producing more than 10 000 km per year.
Products supply to all regions of Russia, CIS countries, Mongolia
Delivery via road and railway transport
Wide product range and comprehensive supply
Production time is 30 days
Mastering and manufacture of innovative products
Fully automated production processes
Quality control at all production steps
Development of strategic partnership with scientific and educational centers and effective use of the potential of joint
Quality Policy
Our activities are aimed at preserving and further increase the volume of production achieved, improving the quality of products and reducing production costs, and consequently, increase profitability and growth in the financial results and customer satisfaction.
"We try to provide a constantly changing request and strive to anticipate consumer expectations for the range and quality of our products".
Management of the company is fully responsible for the implementation of the Quality Policy and creation conditions necessary for the continual improvement of the existing quality management system to ensure its compliance with the requirements of ISO 9001 and GOST R ISO 9001, and to improve the efficiency of its functioning.
Geography of supplies